Posted by Pam Johnson - Head of Buying on 28th Jul 2022
An In-Depth Guide to Different Types of Mattresses
If you haven't changed your mattress in many years, you may well find it isn't providing you with the support that it should. People often only discover this to be the case when they can't settle at night, or if they wake with aches and pains, or stiff joints each morning.
First thing's first - why might you need a new mattress?
If any of the following factors apply, it could be time for you and your mattress to part ways:
Your mattress is sagging
Do you find your partner and yourself rolling towards the middle of the bed at night? As romantic as this impromptu night-time triste may sound, the reality is probably a lot more uncomfortable. A sagging mattress won't offer you the support you need for a healthy night's sleep. In fact, you could find that you're both waking with aches and pains and are not waking up in the best of moods owing to the lack of undisturbed sleep.
You're getting a bigger, better bed
If the time has come to swap your double bed for a king size bed, or even a super king size bed, then you'll need the right size mattress to match. Alternatively, you may be moving your bed into a smaller room, and therefore shopping for a small double bed and mattress.
Your needs are changing
As you age, you may find that getting out of bed isn't as easy as it once was. And you could therefore be considering changing your current bed for an adjustable bed with the accompanying mattresses. It may be that you're now in a relationship and need a mattress that will suit you both.
As your needs change throughout your life, you could find that the type of mattress you require changes too.
Mattress sizes
The first step on the way to purchasing a new mattress is to decide what size mattress you need.
What do mattress sizes really mean?
Being familiar with the names of different sizes of mattresses is one thing, but knowing what they actually mean in terms of length and width is another.
Mattress guide
To find out if the size of mattress you want will fit in your bedroom, whip out your tape measure and take a look at the mattress guide below:
Small single mattress - 75cm x 190cm (2'6'' x 6' 3'')
Single mattress - 90cm x 190cm (3'0" x 6'3")
Small double mattress - 120cm x 190cm (4'0" x 6'3")
Double mattress - 135cm x 190cm (4'6" x 6'3")
King size mattress - 150cm x 200cm (5'0" x 6'6")
Super king size mattress - 180cm x 200cm (6'0" x 6'6)
Let's talk mattress springs -
What do the terms Pocket Sprung & Open Coil actually mean?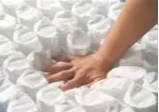 Pocket sprung mattress
Pocket sprung mattresses contain springs that have been individually wrapped in a material "pocket". This design allows the springs to move independently of each other, which can provide the support needed as you move across the mattress. The more pocket springs contained within the mattress, the further support provided.
Benefits of a pocket sprung mattress:
1. The most popular benefit of a pocket sprung mattress is that it offers individual support to each sleeper - the springs react to each slepper's body contours and weight. This ensures the best support for spinal alignment and movement.
2. The individual fabric-wrapped springs minimise motion disturbance in other parts of the mattress which can prevent your partner from being disturbed as you move in the night.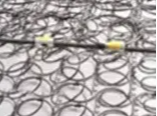 Open coil mattress
These types of mattresses compromise individual coil springs that are connected by small spiral wires called helical wires. Unlike pocket spring mattresses, the coils in open coil mattresses are not contained within individual cases of fabric but are left "open". Open coil types of mattresses are considered traditional mattresses that are known for being durable.
Benefits of an open coil mattress:
1.This is a relatively light type of mattress so easier to transport and to turn.
2. Designed to distribute body weight and to provide support where needed.
3. Open coil mattresses are often used in orthopaedic mattresses owing to the support offered for the back. This is because of the firmness options available in open coil springs, which can ptovide further support for backs.
What else is inside my mattress?
Mattress fillings
Besides springs, mattresses are filled with fibres and materials that add to the comfort level and support of the mattress.
Mattress fillings can include:
Man-made fibres: Many mattresses can now be made using fibres created using recycled materials. The Silentnight Sleep Healthy Eco range, for example, features Eco Comfort FibreTM fillings made using recycled plastic.
Memory foam: Available in assorted densities to vary the firmness of the mattress. Memory foam adapts to the body's contours and boasts pressure relieving properties.
Gel: Known for its pressure relieving support and temperature regulating qualities.
Latex: features a blend of synthetic and natural latex created using the sap from the rubber tree. Again, known for helping to relieve pressure and for providing support where needed.
Natural fibres: These can include bamboo, cotton, wool, silk, cashmere and mohair. Some natural fillings, such as cotton and bamboo, can be used in vegan-friendly mattresses. Another benefit of natural fibres is that these materials have excellent breathable and moisture wicking properties. This can help to maintain an ambient temperature throughout the night.
Glide through a selection of our different types of mattresses
Mattresses can be more than one type

Just when you think you've got your head around all the different types of mattresses available, we're going to throw another fun fact into the mix:
A mattress can offer more than one specific feature
For example, an orthopaedic mattress can also include temperature regulating technology, and a vegan mattress can also include natural allergy protection.
You can find many different convenient mattress type combinations at Bensons for Beds.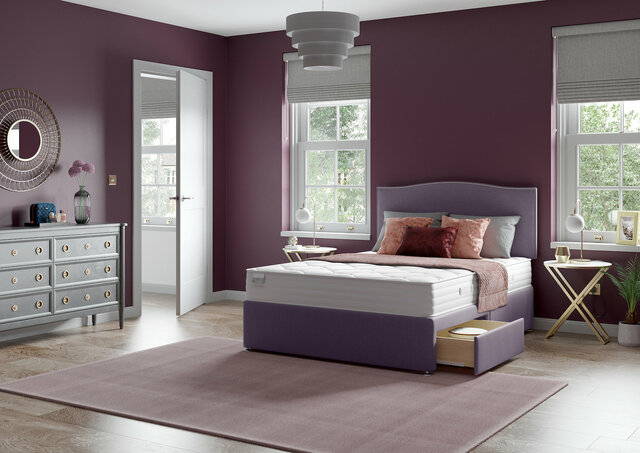 Mattress comfort ratings - what do they mean?
The comfort rating of a mattress is the level of firmness attributed to each mattress, and aims to provide the best comfort and support for each individual sleeper.
Out with the old and in with the new
One of the most common mistakes that people make when choosing a comfort rating is to presume they already know which one is best for them. It's worth keeping in mind that the mattress you bought many years ago may not be the same firmness rating that you need now.
Much like orthopaedic mattresses, an extra firm mattress can help to ensure you're receiving support at all bodily contact points. If you've a larger frame, a firm mattress can help to provide support across the areas that require it most.
Again, this comfort rating offers superb support to the areas that need it most, including the neck, back, and hips. You may select a firm mattress if you experience joint pain and want extra support during the night.
If, like Goldilocks, you need a mattress that isn't too soft, but isn't too firm, a medium mattress could be "just right".
According to The Sleep Foundation(5), sleepers that weigh between approximately 9 stone and 16 stone appreciate the support given by a medium to firm mattress.
This can of course depend on other factors such as height, age, personal preference, and also, the brand of mattress you choose to buy.
Soft mattresses tend to be suitable for people with lighter frames and for those that sleep solely on their back. A soft rating gives instant comfort but you also need to be aware that if you change positions in the night to sleep on your side or front, a firmer mattress could give you further support.
A great way to determine which type of mattress will provide sufficient support is to use the Bensons for Beds in-store Sleep-Pro.
However, if you don't have the chance to go into your local store, you can also use our SleepPRO guide to help you select your ideal firmness rating and type of mattress.
Choosing a new mattress at a glance guide
Decide which size mattress is required.

Choose the type of mattress features you want.

Place you order online at Bensons for Beds or give us a call on 0808 144 6160.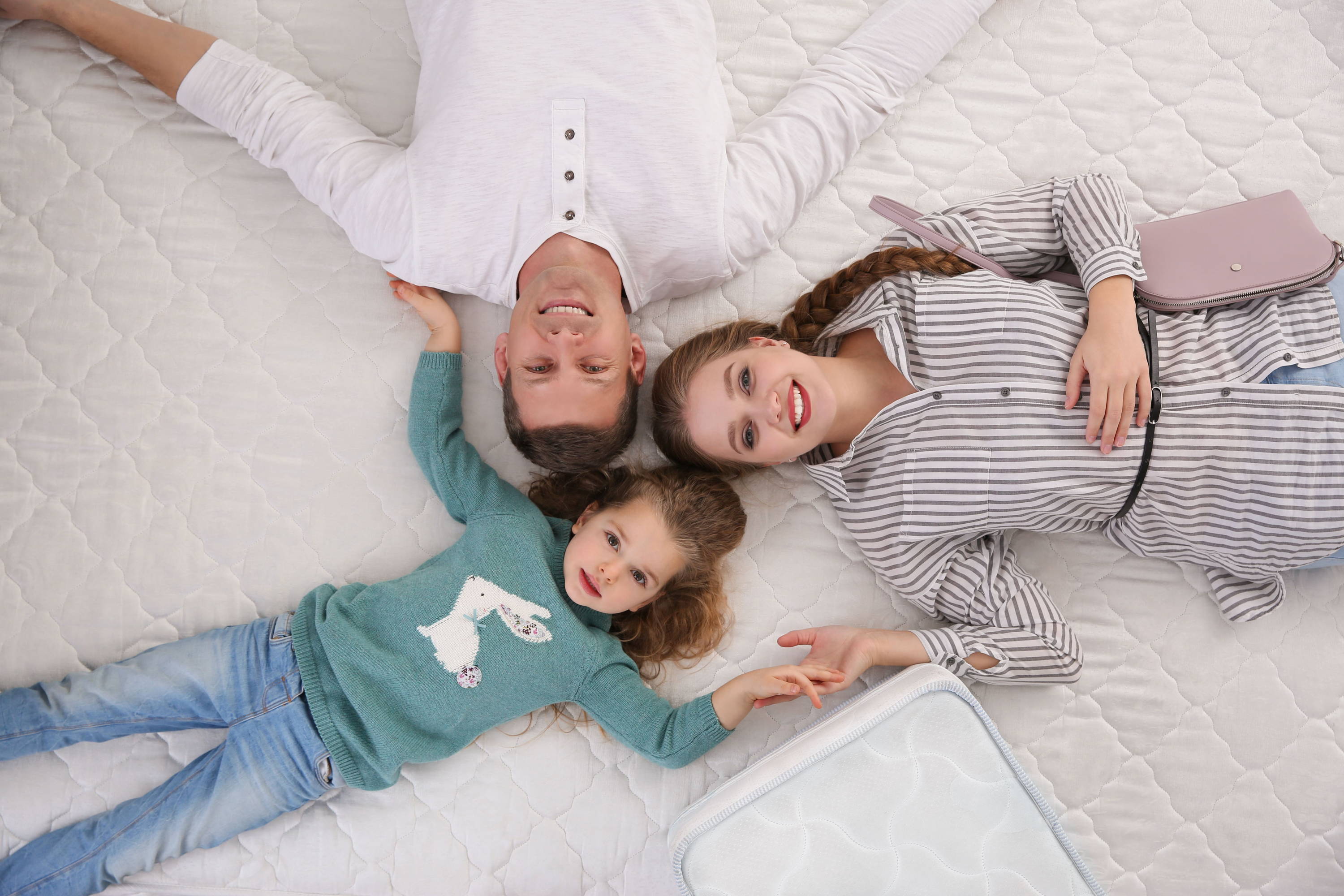 SOURCES:
https://www.nhs.uk/conditions/heartburn-and-acid-reflux/
{ "items": [ { "title": "Pregnancy and Sleep: How to Sleep Well During Pregnancy", "url": "Finding yourself unusually tired during pregnancy is very common, especially during the first 12 weeks. Here, Dr Sophie Bostock explains why this is, and what you can do to sleep well during pregnancy", "thumbnail": "https://cdn11.bigcommerce.com/s-zllqv0a9td/images/stencil/385x215/uploaded_images/adobestock-232793706.jpeg?t=1628003960", "summary": "Finding yourself unusually tired during pregnancy is very common, especially during the first 12 weeks. Here, Dr Sophie Bostock explains why this is, and what you can do to sleep well during pregnancy" }, { "title": "How to Clean and Care for Your Mattress", "url": "https://www.bensonsforbeds.co.uk/sleep-hub/how-to-clean-and-care-for-your-mattress-sleep-hub-/", "thumbnail": "https://store-zllqv0a9td.mybigcommerce.com/product_images/uploaded_images/messy-duvet.png", "summary": "Stains, odours and general wear and tear are inevitable over time, but with regular care and cleaning, you can help your mattress stay fresh and last longer. Make sure you're getting the quality sleep you need from your bed with these easy mattress care tips." }, { "title": "What's the Best Type of Mattress for a Bad Back?", "url": "https://www.bensonsforbeds.co.uk/sleep-hub/best-type-of-mattress-for-a-bad-back/", "thumbnail": "https://cdn11.bigcommerce.com/s-zllqv0a9td/images/stencil/385x215/uploaded_images/female-bad-back.png?t=1636468757", "summary": "Feel like you're stuck in an endless cycle of back pain and poor sleep? What might surprise you is that your mattress could be key to alleviating your pain." ] }