Posted by Pam Johnson - Head Buyer on 11th Jul 2022
What Beds Aid Mobility?
Mobility issues can be a prominent part of life at any age...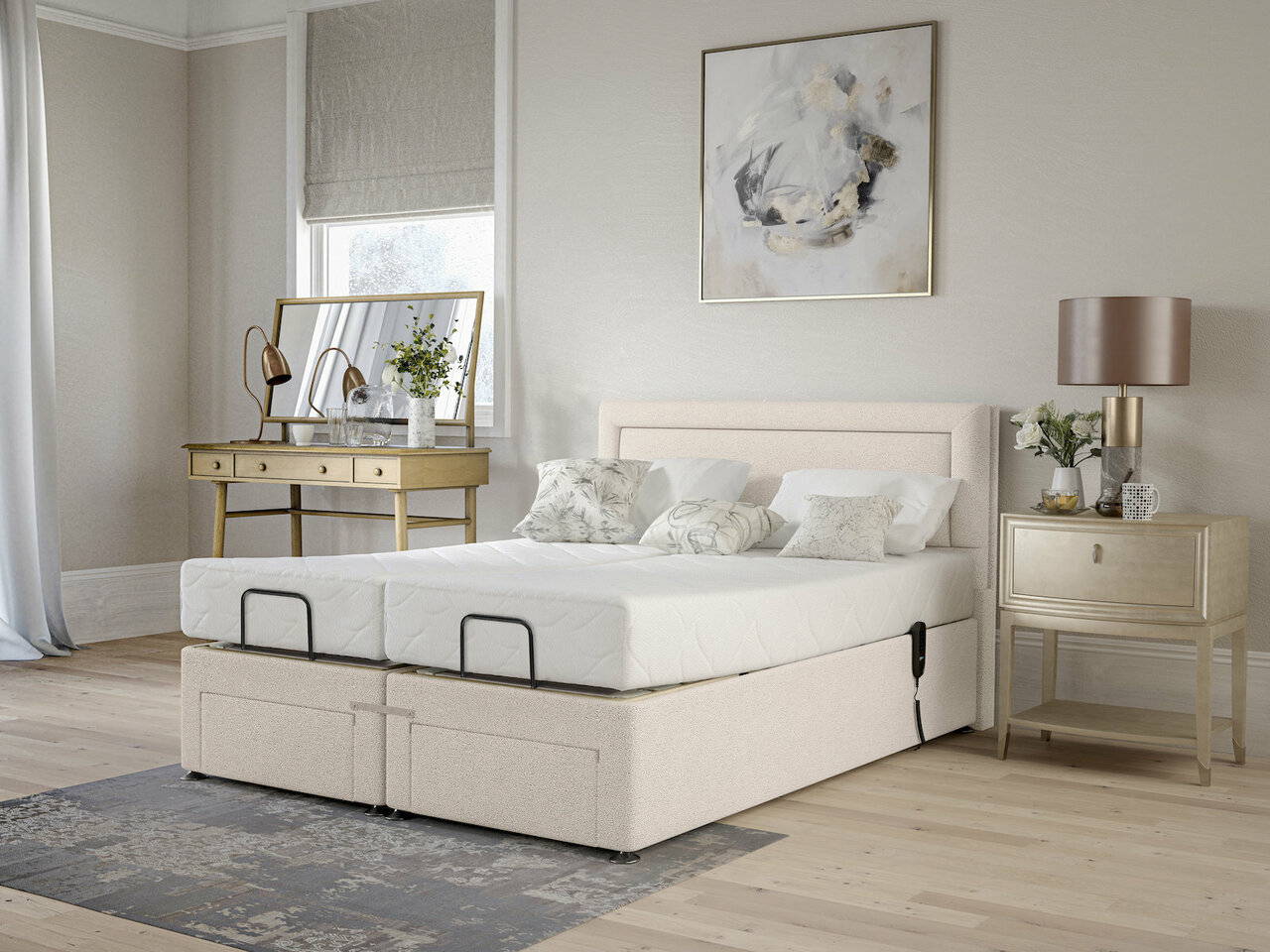 As we spend a third of our lives asleep (1), and therefore, a lot of time getting in and out of bed, it's perfectly acceptable to question if beds, such as adjustable beds, can aid mobility.
The way in which adjustable beds have been known to potentially help those with mobility difficulties has led these types of beds to also be referred to as mobility beds.
A mobility bed could be described as a bed that makes movement when in the bed, and when getting and out of the bed, easier.
According to Verywell health, bed mobility is important as not being able to move in bed can lead to further mobility issues including:(2)
· Pressure ulcers from remaining in the same position for long periods of time
· Wasting away of muscular strength because of lack of movement
It is extremely important to seek professional medical advice when you are experiencing lack of bed mobility.
Shop Adjustable Beds
Adjustable beds and mobility
At Bensons for Beds, we want you to get a great night's sleep and we care about how our products could help you achieve this. That's why we're always delighted to receive your views and comments on the beds we provide.
As retailers of adjustable beds, we're aware that our customers enjoy being able to adjust their bed easily, and to the position they find most comfortable.
We also know just how much you appreciate the way in which our adjustable beds may be able to help you with your mobility and other health needs.
How do we know this? Because you tell us of course!
Here's just some of the feedback we've received from customers who are delighted with their adjustable beds and how they believe it has helped them.
Adjustable beds and acid reflux
According to the NHS the effects of acid reflux can be alleviated by keeping your head and chest above waist level. Adjustable beds can help to keep your upper body elevated, which in turn can help to prevent acid flowing up into your chest and causing that burning sensation.
Adjustable beds do share similarities with hospital beds in that the height of the head and foot of an adjustable bed can be changed with the aid of a motorised action. However, hospital beds have been designed to assist not only with recovery but also so that medical professionals can provide care efficiently.
The similarities between adjustable beds and hospital beds can lead some people to believe that adjustable beds can help patients recovering from certain surgeries when they return home.
Adjustable beds can help to elevate limbs and to keep your body upright, which can also make it easier to get in and out of bed. Therefore, although adjustable beds can't claim to be on par with hospital beds, it is easy to see why so many people find them helpful - like the customers who bought a Tech Motion Plus Adjustable Divan Bed :
Adjustable beds for comfort
Finding a comfortable position is important to allow your body to rest and for you to achieve a good night's sleep. In our article, Sleeping Tips for Side Sleepers , Head of Buying, Pam Johnson investigates how different positions can affect our sleep.
Many of our customers highlight how their adjustable bed provides a comfortable position for a good night's sleep:
As we age, we can encounter different physical problems which impact on our ability to sleep. From everyday aches and pains, to problems such as arthritis, and diminishing mobility, an adjustable bed may be able to help. Several of our older customers and their families have commented on how our Pocket Memory Motion Divan Bed Set adjustable beds have provided the comfort and convenience they are looking for in a bed.
Extra benefits of adjustable beds
When you have mobility problems you may relish a bed that not only allows you to adjust it to a position that you find comfortable, but one that also allows for ease of access to things like usb ports. USB ports allow you to charge your mobile devices and having one or more within reach in your bed can make life that little bit easier.
The customers below highlight how handy they found the usb ports featured in some of our adjustable beds.
Find out more about adjustable beds
Browse our entire collection of adjustable beds and discover why so many customers love to let us know how their new adjustable bed has helped them.
For further information about any of our adjustable beds, give us a call on 0808 144 6160 and a member of our friendly team will be happy to help.
Shop Adjustable Beds
Sources:
(1) We spend about one-third of our life either sleeping or attempting to do so - PubMed (nih.gov)